How to Incorporate NC Sweetpotatoes into Your Diet Plan
September 22, 2020
After a summer spent close to home and closer to the fridge and pantry, you may be looking for healthy new recipes to help shed those extra quarantine pounds. With a new season on the horizon, now is a great time to focus on your health by incorporating healthier choices into your eating regime. Many trendy diets call for complicated, one-time use ingredients that are pricey and inaccessible, making it difficult for the average home cook to stay on track. North Carolina sweetpotatoes are a healthy, versatile and inexpensive option that fit within many popular diets and lifestyles.
Meet your health goals with these practical, simple recipes from the North Carolina SweetPotato Commission:
Paleo
Even though following a paleo diet means eliminating grains, not all carbohydrates are a thing of the past – North Carolina sweetpotatoes are an excellent source of healthy carbohydrates and fiber, making them the perfect paleo-approved ingredient to provide sustainable energy. Following a paleo diet can be tough on your wallet thanks to the cost of purchasing a steady supply of grass-fed meats and wild-caught fish. The following paleo sweetpotato recipes are delicious, satisfying and budget friendly.
Spices like paprika, coriander and cumin give this Chipotle Sweetpotato Salad a kick, paired with a few tablespoons of honey to provide a balance of sweetness . Made with clean, natural ingredients, this recipe is a paleo-approved must!
Talk about a one-dish wonder with this Sweetpotato Crockpot Stew! Inspired by Caribbean flavors, this protein-packed dish features all fresh ingredients and is easy to prepare, making it an ideal choice for a weeknight dinner with leftovers. For strict followers of the paleo diet, make this recipe without the garbanzo beans.
Looking for a paleo-friendly dessert? This Sweetpotato Skillet Brownies recipe created by Fit Foodie Finds is a guilt-free indulgence whenever you're craving something sweet. Not only are they gooey and chocolatey; they are also grain and dairy-free for your paleo lifestyle.
Mediterranean
Dive into the healthy habits of the Mediterranean diet with North Carolina sweetpotatoes. Incorporating a variety of legumes, colorful fruits and vegetables and whole grains into your meal plan creates a balanced and flexible diet that's easy to follow. The Mediterranean plan focuses on fueling the body with the right nutrients without requiring the rigidity of other diets.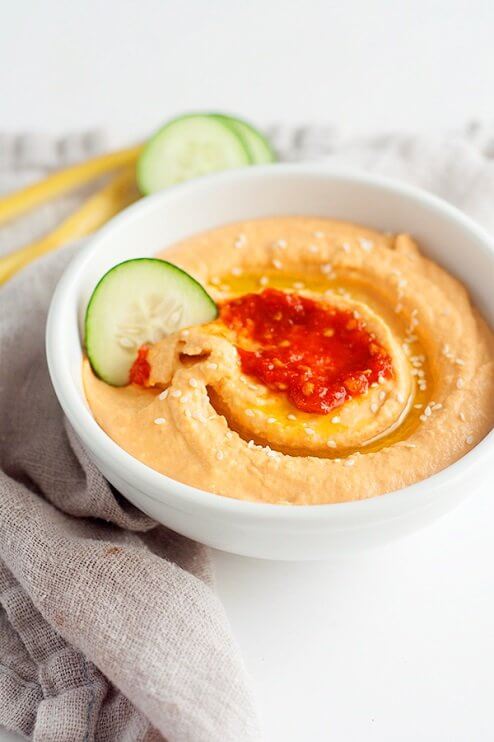 Nothing says Mediterranean like Spicy Sweetpotato Hummus. Traditionally made with chickpeas, this recipe also includes sweetpotatoes for added fiber, flavor and nutrients. A delicious balance of sweet and spice, this hummus can be served as a vegetable dip, side or spread atop your next meal.
The next time those fast food cravings kick in, swap out the French fries for these healthy, homemade Sweetpotato Wedges with Tahini and Sesame. These baked treats are topped with sesame seeds and a creamy tahini mixture, making for a yummy appetizer or side.
Plant-Based
Fruits, vegetables, whole grains and legumes make up a large portion of a plant-based diet. North Carolina sweetpotatoes fit naturally into a plant-based diet, providing a great source of fiber, which helps you to feel full and fueled for longer periods of time.
Up the weeknight dinner rotation with these Vegan Roasted Sweetpotato & Cauliflower Tacos for a fiesta in your mouth and exciting leftovers you'll be sure to look forward to. With a few simple, wholesome ingredients that come at an affordable price, these plant-based tacos will become a go-to meal.  
When you're looking for quick comfort food, spice things up with this professional chef- and dietitian-approved Sweetpotato Coconut Curry Pasta Recipe. This tasty and incredibly simple dish is sure to please any palate (and who doesn't love a healthy pasta?!).
Gluten-Free/Dairy-Free
Whether you avoid gluten and dairy due to preference or because of allergies, North Carolina sweetpotatoes are both naturally gluten- and dairy-free, and satisfying to the taste buds!
A common food craving on a gluten- or dairy-free diet is pizza. By using sweetpotatoes as the main ingredient, you won't have to miss out on this favorite dish. This amazing Sweetpotato Pizza Crust packs all the flavor of traditional pizza crust, plus extra fiber. Bonus: This recipe gives you a chance to choose your favorite dairy-free cheeses and other toppings, making it a fun option for family night!
Those who avoid gluten and dairy are familiar with the complicated and expensive breakfast alternatives to traditional toast, pancakes or yogurt. By using sweetpotatoes, it's easy to add extra vitamins and potassium to your morning routine. With just a few spices and fresh ingredients like bell pepper, eggs, onion and North Carolina sweetpotatoes, this Sheet Pan Sweetpotato Hash is the perfect one-pan, no-fuss breakfast.  
No matter what diet regimen you follow, North Carolina sweetpotatoes are the perfect versatile, healthy ingredient to add to your next meal!