Seven Sweet Ways to Celebrate National Sweetpotato Month
February 9, 2021
Did you know February is National Sweetpotato Month? Whether you're looking to maintain your New Year's resolution with healthy recipes, trying to find sweet ways to sneak vegetables into your kids' diets or just wanting an activity to beat the stay-at-home blues, the North Carolina SweetPotato Commission is here to share seven ways you can celebrate the orange superfood this month:
Up Your North Carolina Sweetpotato Knowledge
Sweetpotatoes have been around for centuries, but how much do you really know about the orange superfood? North Carolina is the No. 1 sweetpotato-producing state in the country, averaging 60% of the nation's supply. There are hundreds of varieties of sweetpotatoes, ranging from white and mild to deep red and super sweet, but three popular varieties can be found in stores nationwide – learn more about Covington, White and Japanese sweetpotatoes here. Commonly mistaken as a yam, the sweet, orange-colored root vegetable you enjoy is more than likely a Covington sweetpotato. Test your sweetpotato smarts with our Yams vs. Sweetpotatoes quiz.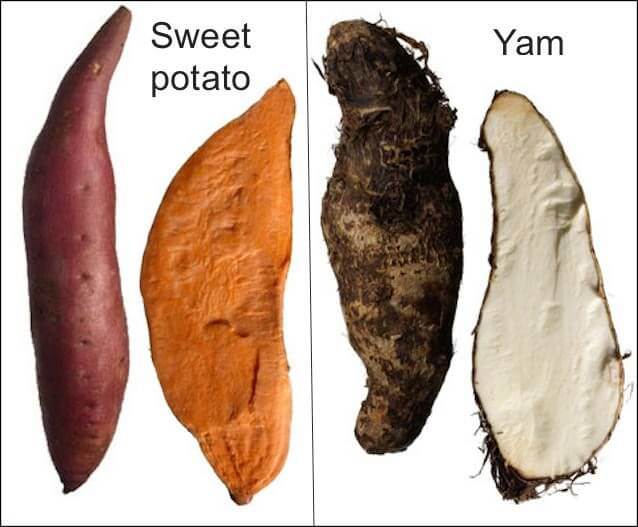 Support a Local Farmer
The North Carolina SweetPotato Commission is made up of more than 400 growers, packers, processors and business associates whose goal is to get North Carolina sweetpotatoes from the field to your plate. Whether you're local to North Carolina or not, celebrate National Sweetpotato Month by supporting a farmer. Visit your local farmer's market to purchase farm-fresh produce, or donate to your state's ag extension program to help further education in the industry.
Expand Your Palate
National Sweetpotato Month is the perfect excuse to sample something new. Mix up your afternoon snack routine with our Bacon Wrapped Sweetpotatoes featuring a yogurt lime dipping sauce or, perfect for meal prepping, whip up a batch of No-Bake Sweetpotato Bites for energy that will keep you going all day long. Warm up with Curried Sweetpotato Soup or experience international cuisine with one of our Spanish-inspired sweetpotato dishes.
Take a Cooking Class
If you're not feeling confident enough in the kitchen to take on a new North Carolina sweetpotato recipe on your own, or simply want a fun activity to do with friends, sign up for a virtual cooking class featuring our favorite orange veggie. Offered through national cooking stores like Sur La Table and Williams Sonoma, as well as local specialty stores, virtual cooking classes are the perfect way to celebrate with friends over delicious food and a glass of wine.
Order a Sweet Meal
Take out or dine in at a local restaurant featuring sweetpotato dishes. When in North Carolina, stop by Sweet Potatoes Restaurant in Winston-Salem to sample Chef Stephanie Tyson's Skillet Sweetpotato Cornbread or head to Raleigh to taste test seasonal sweetpotato recipes with an Indian and Asian flare crafted by James Beard-nominated Chef Cheetie Kumar at Garland. If you're not local, check out nearby restaurants featuring farm-to-table fare to get your North Carolina sweetpotato fix.
Try a New Way to Cook North Carolina Sweetpotatoes
North Carolina sweetpotatoes are one of the most versatile veggies around! From wedges and rounds to cubes and matchsticks, there are plenty of ways to prepare the orange superfood. Take a break from baking and try a new way to cook sweetpotatoes. The perfect solution for busy days, cook your North Carolina sweetpotatoes low and slow in a crock pot (or slow cooker) for delicious dishes like Crockpot Pork and Sweetpotatoes or Caribbean Crockpot Stew.When you don't have time to prep ahead, break out your Instant Pot to create a naturally sweet meal in minutes.
Cheers to North Carolina Sweetpotatoes
Wrap up National Sweetpotato Month the best way we know how – with a delicious North Carolina sweetpotato cocktail! Feel like an at-home mixologist when you craft a Dirt Candy Cocktail featuring barrel-rested gin, sweetpotato simple syrup, cardamom bitters and flamed orange peel. Coffee lovers will buzz about the Slingshot Flip, a mixed drink crafted with rum, Slingshot Coffee Liqeur, sweetpotato and black walnut bitters. Or, if you're feeling creative, whip up your own North Carolina sweetpotato cocktail or mocktail.
No matter how you choose to celebrate National Sweetpotato Month, be sure to tag us on social at @ncsweetpotatoes and #eatncsweet for a chance to be featured on our page!