Twice Baked Maple Chipotle Sweetpotatoes with Goat Cheese & Pumpkin Seeds
Print Recipe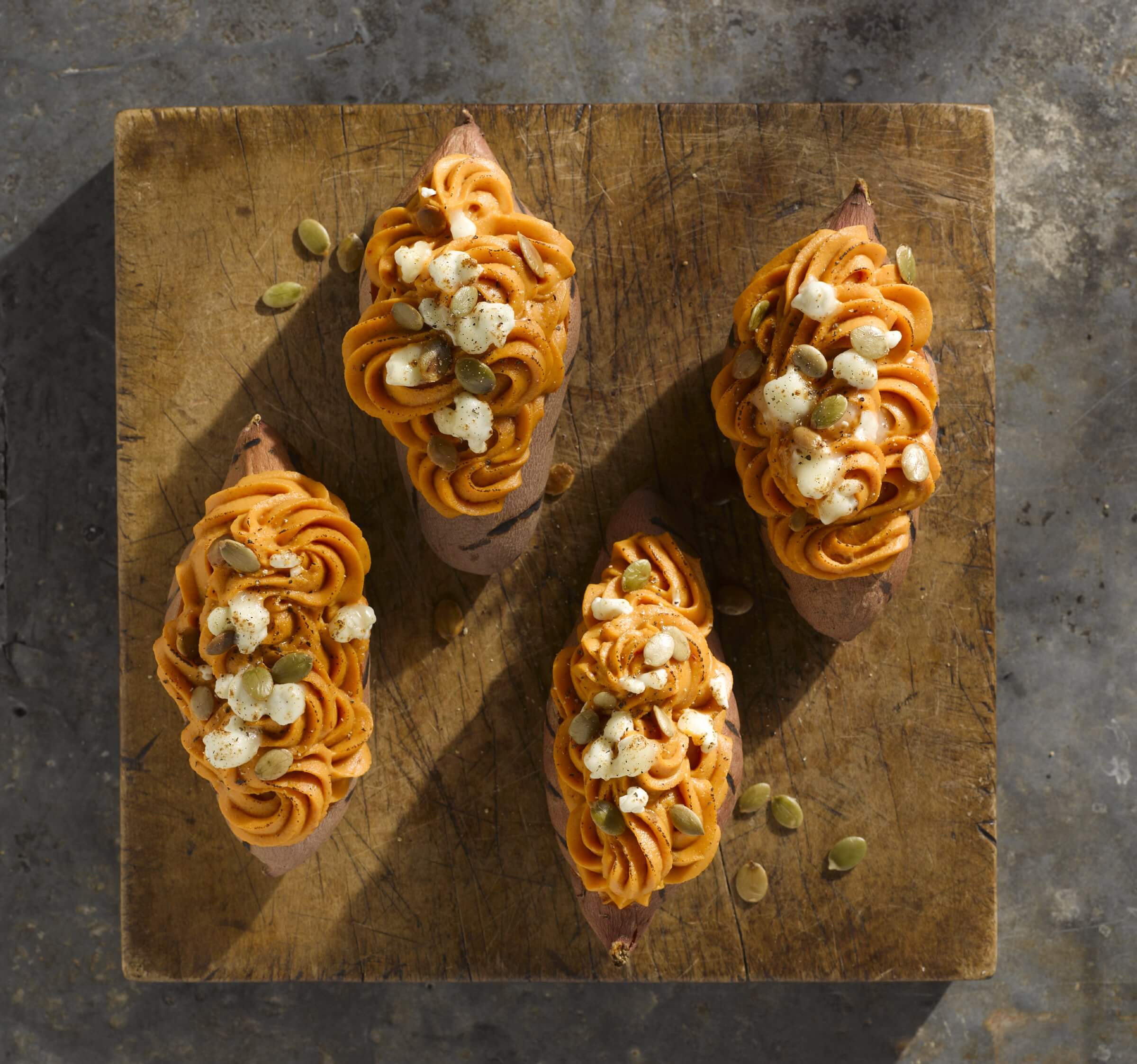 Ingredients
6

large sweetpotatoes

Extra-virgin olive oil

1

heaping cup plain Greek yogurt

1/2

cup

maple syrup

1-2

canned chipotles in adobo sauce

1

teaspoon

ground cinnamon

3/4

teaspoon

salt

4-6

tablespoons

crumbled goat cheese

1/4

cup

toasted pumpkin seeds
Instructions
Rinse and scrub sweetpotatoes with a rough brush or veggie cleaner. Dry well. Coat sweetpotatoes with a thin layer of olive oil. With a fork, prick sweetpotatoes all over, about 6 times.

Grilling instructions: Preheat grill and set burners on indirect medium heat. Place sweetpotatoes in the center of the cooking grate; grill-roast until the skin is crisp and the inside is soft but the skin is still intact, about 1 hour. Remove from grill; set aside. Preheat oven to 350°Grilling alternative: Preheat oven to 400°Bake until tender but not mushy, about 1 hour. Let cool to lukewarm. Reduce heat to 350°F.

To make the twice-baked potatoes: Choose the four potatoes with the most skin intact and cut them in half lengthwise. Leave a 1/2-inch margin of the potato intact, scoop out the sweetpotato flesh with a spoon and place in the bowl of a food processor; reserve skins. Peel remaining two sweetpotatoes and add flesh to the bowl; discard skins.

To bowl add yogurt, maple syrup, chipotle, cinnamon and salt; puree until smooth. (see notPlace mixture in a piping bag or spoon mixture into reserved shells; top with goat cheese.

Place on a rack over a baking sheet; bake until filling is warmed through and cheese is melty and lightly browned, about 25 minutes. To serve, garnish with toasted pumpkin seeds.
QUICK NOTES
Mixture can be refrigerated for up to 2 days at this point. Follow remaining instructions and bake in oven until filling is warmed through, about 50 minutes.