"Chicken + Rice" Chicken Liver + Sweetpotato Leaf Risotto
Recipe by The Asbury's Executive Chef Chris Coleman for the NCSPC
Print Recipe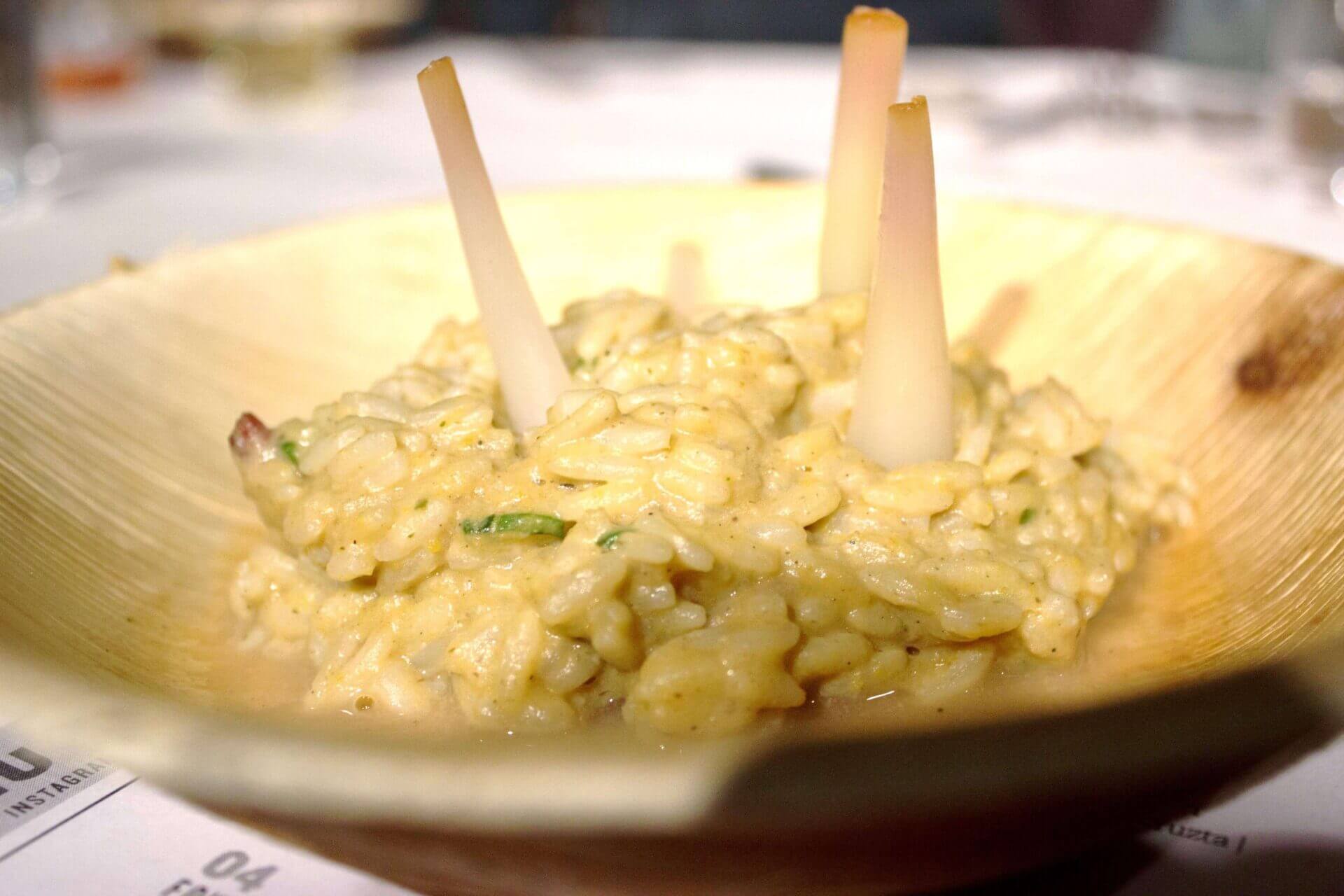 Ingredients
Chicken + Rice

1

lb

Carolina Gold rice

Chicken Liver Mousse

1

lb

sweetpotato leaves

,

thinly sliced

1

cup

Roast Lemon Shiitake Jus

Chicken Liver Mousse

2

tablespoon

butter

1

shallot

Bay

,

thyme, peppercorn, orange peel

1/2

lb

chicken livers

1/4

lb

cream cheese

Roasted Lemon Shiitake Jus

2

Lemons

,

halved

1/2

lb

shiitake mushrooms

thyme

,

bay, peppercorns, pinch of curry powder
Instructions
Chicken + Rice: Bring a medium pot of water to boil, and stir in rice. Cook until just al dente. Remove and cool on a sheet tray in the fridge. When ready to finish, heat rice in a splash of water and stir in Chicken Liver Mousse (recipe follows). Fold in sweetpotato leaves to wilt and season to taste. Serve in a bowl and ladle jus over.

Chicken Liver Mousse: Sweat shallots, bay leaves, fresh thyme, peppercorns, and orange peel in butter until starting to brown. Add chicken livers and cook until medium (brown exterior, pink interior). While mixture is still hot, puree in a food processor with cream cheese. Adjust seasoning to taste.

Roasted Lemon Shiitake Jus: Char lemons in a screaming hot cast iron pan until very brown, and add to a pot with mushrooms. Add thyme, bay, peppercorns, and curry powder and cover with water. Simmer until reduced by 1/3. Adjust seasoning.