Roasted Chicken with Sweetpotato Rounds
Recipe developed by Chef Vivian Howard in partnership with NCSPC This is a satisfying, healthy supper you can put together in a matter of minutes. The sweetpotatoes sitting directly under the chicken absorb its juice as the chicken roasts, while the ones around the edge take on crisp edges. Try to get some of both in every serving. I like to eat this alongside wilted bitter greens like turnips or arugula. Photo Credit: Juli Leonard
Print Recipe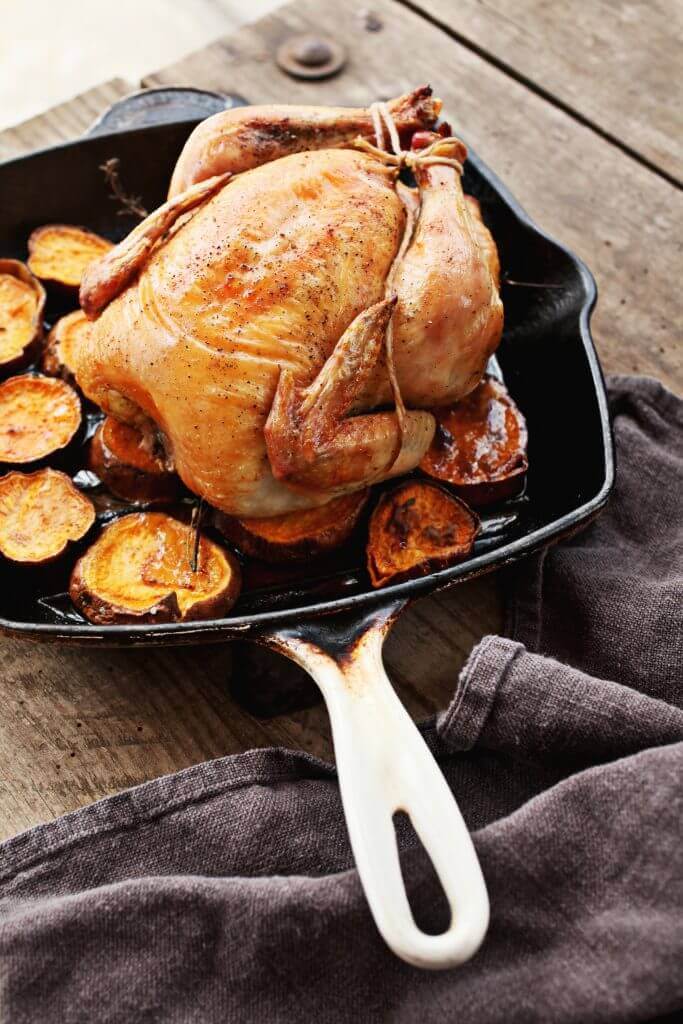 Ingredients
1

young chicken

,

about 3 pounds

1

large sweetpotato

1

tablespoon

extra-virgin olive oil

2

tablespoons

salt

20

turns of the black pepper mill

,

or 1 teaspoon

1

lemon

,

halved

1

small handful fresh herbs such as thyme

,

rosemary or sage
Instructions
Preheat the oven to 375 degrees. Rinse the chicken and remove any of the innards stashed in the cavity of the bird. If you find it, reserve the neck for this recipe. Pat the chicken dry with a paper towel. Rub the chicken inside and out with 1 1/2 tablespoons olive oil and season thoroughly with 1 1/2 tablespoons salt and all the pepper.

Stuff half the lemon and the some of the herbs inside the cavity of the bird. Slice the sweetpotato into 3/4 inch rounds. Toss the rounds in additional olive and salt. In a 10-12 inch cast iron skillet or similarly sized baking vessel, arrange the sweetpotato rounds so that the bottom of the skillet is covered, but none of the sweetpotatoes are overlapping.  Lay the additional herbs on top of the potatoes.

Truss the chicken if you wish and position it on top of the sweetpotato rounds, breast side up.  Slide the skillet onto the middle rack of the oven and roast for 1 hour. Bring the bird out of the oven and squeeze the remaining half lemon over top. Serve the chicken warm with sweetpotatoes.
Number of servings (yield): 4